One of the main reasons for loss of power is that a breaker has tripped. This occurs when a circuit is over-loaded due to having connected too many electrical devices. Before you decide to call in for a maintenance try the following to rest the breaker in the panel located in your living area.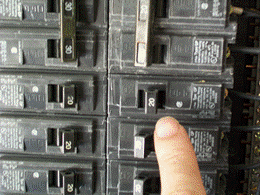 Unplug all your electronics and turn off the lights.
Go to the electrical panel and run your finger down the breakers. There will be one that will move to the middle position when tripped. It will feel a little looser / spring action than the remaining breakers. This means the breaker has tripped.
Push the breaker to the OFF position and back to the ON position. The breaker should appear the same as the remaining breakers.
Avoid plugging in too many electronics that will overload the breaker. This should stop tripping the breaker again.
If you were unsuccessful in resetting the breaker place a work order for a maintenance request on our website under "Work Orders".